T-Mobile employee claims that BlackBerry 10 models will no longer be available in T-Mobile stores
21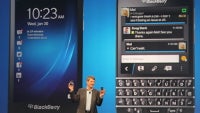 According to a published report that cites a T-Mobile USA employee as its source, the nation's fourth largest carrier is blaming poor sales for its decision to
stop selling BlackBerry 10 models
in its stores. The employee, who goes by the name of Dierre online, said that "
My manager told me the other day that all Blackberry 10 devices will now be only available via direct ship. I work at a corporate store in Cleveland I have to go check the Email but I'm not sure if this has just affected Northeast Ohio
."
With other T-Mobile employees confirming the carrier's decision to stop selling BlackBerry 10 models in the stores, this will apparently drop the Canadian handset manufacturer's U.S. market share from its already anemic level to an even more microscopic number. While T-Mobile originally was planning on offering just the all-touch
BlackBerry Z10
,
a late second change in heart put the QWERTY-equipped BlackBerry Q10 on the mobile operator's roster
. The last second change by T-Mobile had many wondering if the carrier knew something about demand for the phone that other carrier's didn't. But at the end of the day, the BlackBerry Q10 was a flop in the U.S. with
demand for the phone characterized as being poor in a recent report published in the Wall Street Journal
.
Microsoft's mobile OS, Windows Phone, is the biggest beneficiary from BlackBerry's failure as both platforms battle for the third place spot in U.S. market share after Android and iOS. BlackBerry's board is said to be weighing a number of options, most of which are traumatic. One plan
has the company spinning off its BlackBerry Messenger
unit as a separate firm. Other possibilities include selling the enterprise services division to a big computer company like IBM. The hardware and software divisions also have their corporate admirers that could be interested in taking these parts off of BlackBerry's hands.
BlackBerry does have one last BlackBerry 10 model to launch before the year is out. The 5 inch
BlackBerry Aristo
will be the first 5 inch 'Berry and is supposed to be the most powerful model ever produced by the company
. But with specs that fail to excite, the writing is on the wall and we could see BlackBerry's board revealing a new game plan before the end of the year. For now, if you are a T-Mobile customer looking to purchase a BlackBerry 10 handset, check with your local T-Mobile store first just to make sure that the model you want is still available from the store.
source:
Crackberryforum
via
WMPoweruser