WSJ: BlackBerry's board considering spinning out BBM as a separate company
16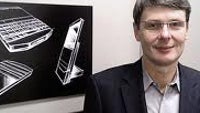 Desperate times call for desperate measures, right? So how desperate is BlackBerry? Apparently, times are so tough right now that BlackBerry's board is considering spinning off
BlackBerry Messenger
as a separate company. This is according to some company insiders who spilled the beans to the
Wall Street Journal
on Tuesday.
The spinoff, to be called BBM, Inc. would be spun out from BlackBerry and polished up to make it more desirable to buyers. Some executives have already moved over to the new entity which is working on features beyond messaging, like video chat which is already available to BlackBerry users. In addition, BBM will be made available to the iOS and Android platform sometime this summer, the first time that the messaging platform has been offered on non-BlackBerry phones.
Samsung has already started promoting BBM
as it comes closer to becoming available on its Galaxy smartphones in Africa.
Later this summer, BlackBerry will make BBM available as an app in the Google Play Store for Android users and in the Apple App Store for iOS users. BlackBerry will try to compete against other third party messaging apps like
WhatsApp
. The latter has more than 200 million members versus 60 million for BBM. BlackBerry will also introduce BBM Channels, a feature similar to Twitter that will bring companies and celebrities closer to consumers and fans. There is even talk of making some BlackBerry features available for desktop computers.
Many of the problems afflicting BlackBerry
have been blamed on past management's inability to see the Apple iPhone as a legitimate threat
when it launched in 2007. According to the Journal, a multi-platform version of BBM was available three years ago. At the same time, a desktop version was also in use internally. Both ideas got scrapped by the prior management team but are now being revived by current management.
"We think there is a great opportunity in bringing BBM to other platforms as people look for the right service to have even more engaged conversations on their smartphones. People are also becoming leery of how they share their personal information and mobile communication services need to be built for that. They are also looking for a simple, customizable interface and BBM brings that."
-BlackBerry spokesman
BlackBerry's board could still decide to sell the entire company, put up for sale other parts instead of BBM, or the board could decide to do nothing. The company had high hopes for its new BlackBerry 10 line but the
BlackBerry Z10
,
BlackBerry Q10
and
BlackBerry Q5
have underwhelmed critically and in the stores. A 5 inch all-touch model, the
BlackBerry Aristo
, is expected to launch in November but could be considered DOA by smartphone buyers who will have the
Apple iPhone 5S
and
Apple iPhone 5C
to consider as well as the
Samsung Galaxy Note III
, the
LG G2
and the
Sony Xperia Z1
. There remains a contingent of BlackBerry fans who say that they will stick with the OEM through thick and thin, but it might be BlackBerry's board that has the final say about how BlackBerry will look in the immediate future.
source:
WSJ