New T-Mobile to 'lower prices' vs Verizon, what are the Sprint merger's odds?
9
T-Mobile's $26 billion merger with Sprint, until recently considered a done deal, is
under threat
. We've been getting numerous emails from national security organizations with tons of arguments why this shouldn't go ahead from their vantage point, and now the Department of Justice seems to be stalling the process to a screeching halt.
That's the entity that ultimately matters, and T-Mobile's CEO John Legere has been shuttling back and forth in Washington D.C. to the point that he got flak for staying
exclusively in Trump's hotel
in the capital with the hint that he might be using this to curry favors with the White House.
While Mr Legere is staying in a comfortable and secure establishment or trying to buy influence, depending on whose comments you chose to believe, the FCC has frozen the clock on its 180-days allowance for review and analysis of the deal with input from interested third party participants.
Will the T-Mobile-Sprint merger be approved? Politicians, unions, and the competition file against
It's hard to tell but odds have swung in favor of a no deal, say analysts. Too many
political points
are to be scored against the deal than for it, for instance. Besides the usual "letters of concern" from the competition, Senators like Amy Klobuchar, Kirsten Gillibrand, Elizabeth Warren, Cory Booker and Bernie Sanders have also written on to DoJ and the FCC to state that the deal will "
raise prices for consumers, harm workers, stifle competition, exacerbate the digital divide, and undermine innovation
." In addition, we have 37 Members of Congress penning a similar letter, calling the merger "
a bad deal for the American people
."
Back in the fall, the competition had reportedly given up on derailing it, and is actually trying to push through conditions that will benefit it when the merger goes through. C-Spire, for instance, met with FCC reps, and reiterated their desire for checks and balances on the resulting third-largest US carrier.
The national security angle
On the other hand, there is a growing concern among the national security apparatus that, besides the usual arguments for job losses and price hikes, the merger will be a nightmare scenario in light of the Red Menace attitude towards China in Washington now.
Protect America
, for instance, an advocacy group of current and former foreign policy and national security experts that was found last fall, is lobbying tooth and nail against the deal on account of the "
foreign ownership interests in a combined Sprint-T-Mobile
." The organization was very giddy when it became clear that the DoJ is planning to block the merger in its current state:
The news around the T-Mobile/Sprint merger by the Justice Department affirms what the national security community has been maintaining for months: this proposed mega-merger is bad for consumers and would have put our national security at risk. No one in the U.S. wireless industry has a closer relationship to Huawei than T-Mobile. T-Mobile's parent company, Deutsche Telekom, has an entangled and long-standing relationship with Huawei and has worked with them to deploy 5G in infrastructure around the world—even at times siding with Huawei over our closest allies.
By blocking this merger, it is clear the DOJ is done with T-Mobile's vague, unenforceable commitments not to use Huawei, especially given that Deutsche Telekom would own 42 percent of the 'new T-Mobile.' It further solidifies that the DOJ is not buying T-Mobile's nebulous claims that somehow this merger will create more competition to Huawei. The DOJ's move to end the madness is a critical step to protect our national security and secure United States' control over our own digital future.
Also, of course, Russia. Yes, Russia's MTS carrier and Deutsche Telecom ties and then, tangentially, T-Mobile US. And hacking, lots of hacking, or
something
.


The T-Mobile-Sprint response to the merger blockage
T-Mobile's CEO John Legere, COO Mike Sievert, and CTO Neville Ray, as well as Sprint's executive chairman Marcelo Claure, have met with the FCC commissioner Jessica Rosenworcel this past week to lay down the
counterclaims
to all of the above.
First off, the New T-Mobile will "
focus on taking share from Verizon and AT&T through lower prices
," they said, and won't be charging extra for 5G like Verizon does, for instance. Needless to say, the new formation will be able to afford this aggressive strategy because of the spectrum synergies and cost savings.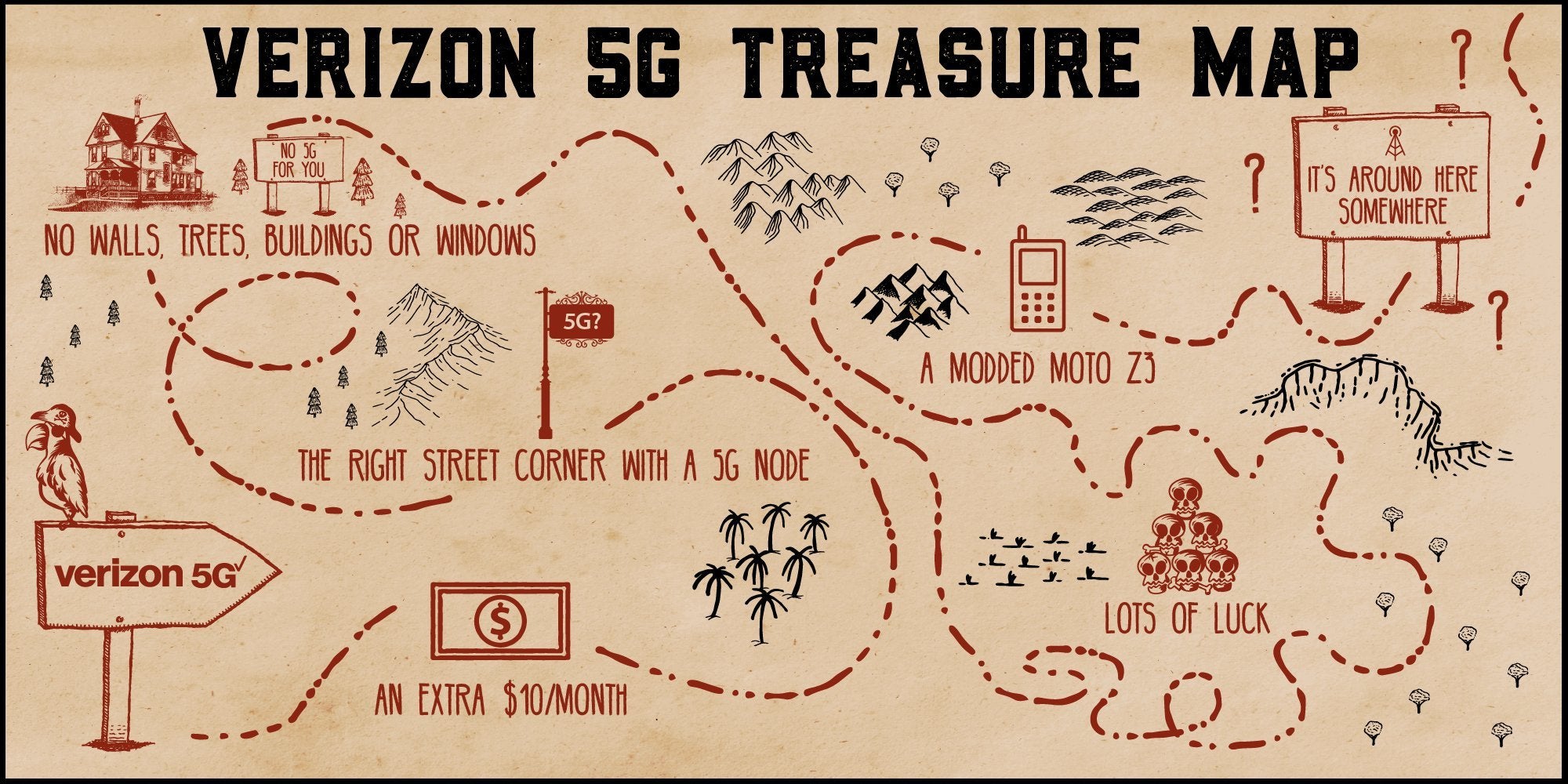 Meanwhile, as usual in such mergers, each separate entity tried to
present the dire case
of going it alone by publishing a comparison of their current apocalyptic state and the rosy future should the merger be approved: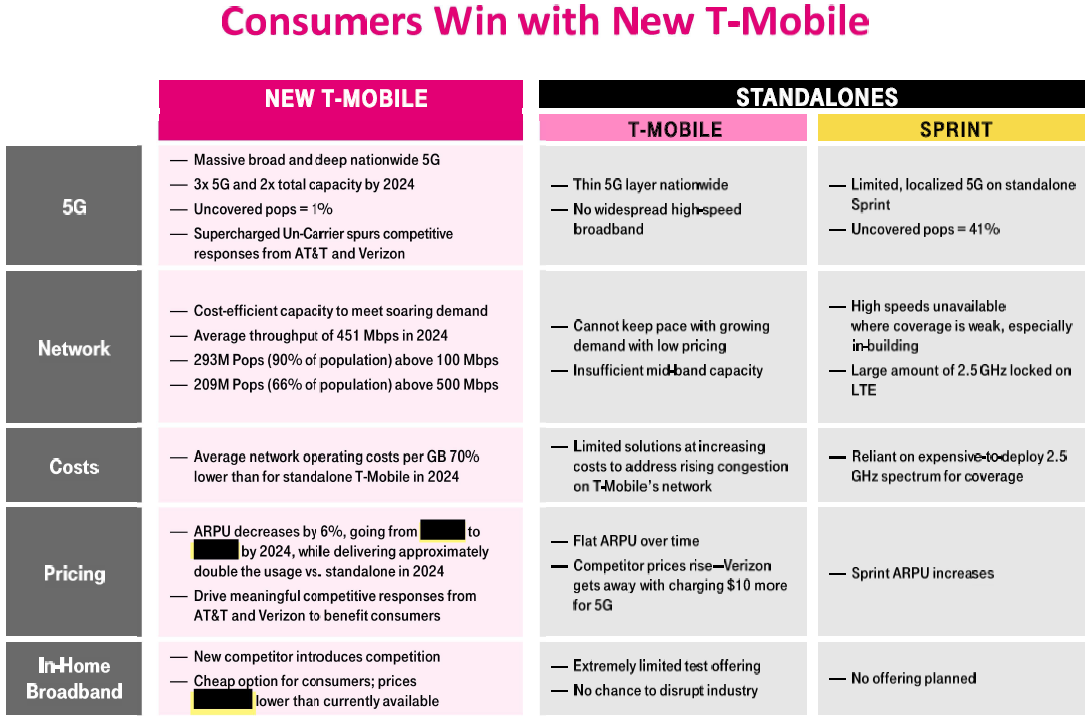 Sprint went so far in its argumentation as to claim that it will be a hair short of having to enter bankruptcy protection if the merger with T-Mobile doesn't get approved. That's most likely an exaggeration to tip the scales but it will undoubtedly be forced to limp along nonetheless.
The Department of Justice will have its final say at the beginning of June, and the FCC has stopped the clock on Day 141/180 for its own analysis, so we would know very soon if there will be three major US carriers duking it out in a much welcome price war on the cusp of the nationwide 5G rollout.