T-Mobile Sidekick 4G Unboxing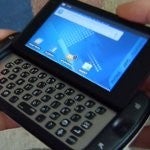 We'd have to travel back to
May 2009
to remember the last time we managed to get comfy with a Sidekick handset, but after hearing reports about the
popular line being possibly discontinued
, we were utterly taken by surprise by the announcement that it was basically going to be
reincarnated into a smartphone
.
After getting the chance of
checking out the T-Mobile Sidekick 4G at CTIA 2011
, we're finally once again going to be able to relive all of the messaging focused aspects of the popular line. Taking a quick peek into its packaging, we find the initials "SK" squarely on the top, with some colorful markings outlining the sides. Inside, we find the microUSB cable, wall charger, usual set of documentation, and a microSD card adapter – the latter of which is rarely found packaged along with most phones; so it's nice seeing it included.
The handset itself pretty much sticks true to the Sidekick form factor, but instead of employing that usual swiveling mechanism with its display, the Sidekick 4G opts to use a
"pop-tilt" mechanism
. Considering its
$99.99 on-contract
cost, it's pretty amazing to see it competitively priced knowing that it features a 3.5" WVGA touchscreen, 3-megapixel rear camera, 0.3-megapixel front facing camera, 1GHz Hummingbird processor, HSPA+ support, 5-row QWERTY keyboard, and Android 2.2 Froyo.
Besides the specs, the handset relies on using a customized experience to better channel its messaging attributes in order to provide things like advanced texting services with Group Text and Cloud Text. Furthermore, you know that social networking and multimedia are going to come into play with this one to concretely cement its well-rounded capacity. In any case, we'll surely test this one out over the course of the next few days to better grasp this modernized Sidekick device.