R.I.P. Sidekick?
7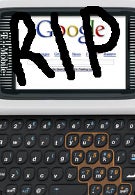 A new, unproven tipster has just passed along some news to BGR regarding the T-Mobile Sidekick. According to the info, the upcoming launch of the Android flavored myTouch Slide means the end of the road for the Sidekick. T-Mobile is phasing out sales of the Danger/Microsoft device. Will it be replaced by the previously
reported on
Zune/Project Pink phone? The myTouch Slide is a physical QWERTY enabled version of the Magic and is also known as the myTouch Espresso or the myTouch 2. You
might recall
that last year, Sidekick owners found that some of their personal data had disappeared from their phone and although Microsoft was able to eventually return most of the data, it has left a mark on the handset that it cannot easily wash away.
T-Mobile Sidekick LX Specifications
|
Review
source:
BGR