T-Mobile Sidekick 4G Hands-on
8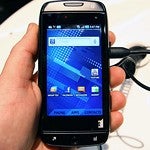 It goes without question that quite a few users out there have probably felt very happy when T-Mobile announced it's actually not going to proclaim the "Sidekick" line dead. Instead, the carrier introduced a brand new device to the lineup, a Sidekick device coming from a different manufacturer – Samsung – and designed so that it'd be able to compete with the best handsets on the market.
We're of course talking about the newly-announced
T-Mobile Sidekick 4G
, which is not only going to utilize the carrier's
HSPA+ 21Mbps
network, but will also have some software installed that will surely make the socializing experience a lot smarter than before, courtesy of Android 2.2 Froyo.
Now, as much as we like the good ole Sidekick idea, we've got to admit that the Sidekick 4G is a bit too chubby for our modern tastes. Not that we can't live with that though, considering its beautiful physical
QWERTY
keyboard, which snaps open reassuringly with its hinge design. Most importantly, the keys on the Sidekick 4G are spaced-out really well, allowing you to make little to no mispresses while typing. The buttons also seems to have a pretty good travel to their movement. Closing the QWERTY keyboard might prove a bit challenging at first, but after a couple of attempts we could get the gist of it. A nice design touch by Samsung is the nicely-patterned back, which allows for a better grip.
The wonderful QWERTY will be complemented by a healthy-sized
3.5" WVGA
touch TFT display, which will bring some "novelties" to the franchise, such as comfortable web browsing and better gaming capabilities.
On the software side of things, we said the T-Mobile Sidekick 4G is to come with
Froyo
, which isn't the most impressive asset, considering that Gingerbread is already out, available for manufacturers to put it in their phones. The reps here at CTIA did mention something about a possible Gingerbread update later on, but we wouldn't be holding our breath. Anyways, there are some customizations done to the interface to give the Sidekick 4G that alternative look needed for such a youth-centric device. First of all, there'll be a new lock screen, while the home one will now feature a custom menu at the bottom that will provide you with the options to go straight to Phone, Apps, or Contacts. Obviously, we're not too thrilled about this custom UI, especially having in mind that it might slow down the release of eventual firmware updates.
So that pretty much sums up our first impressions from the T-Mobile Sidekick 4G. We're glad that the line is still alive and kicking, and will be looking forward to playing some more with it, hopefully sometime this spring, when the phone is expected to hit the market.