T-Mobile Samsung Galaxy Note release date might be August 8th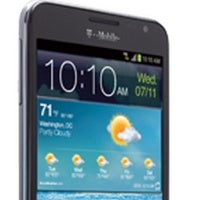 The
Samsung Galaxy Note
with its huge
5.3
-inch screen seems less of an abnormality nowadays with larger screens quickly becoming the mainstream, but back when it launched it was hugely weird to hold such a gigantic device and still refer to it as a smartphone. Well, phablet if you wish.
Either way, news is that evidence is mounting that T-Mobile is getting the Samsung Galaxy Note and the exact release date has been set for August 8th, later than the July launch we previously heard about.
We've already seen renders of the device with T-Mobile branding on the top front side and the four capacitive navigational buttons typical for pre-ICS devices. Now, this might spell the bad news about the Note arriving on the now terribly dated Gingerbread. We'll keep our fingers crossed T-Mo and Samsung work out the details and the device actually launches with ICS on it.
source:
TMoNews