T-Mobile G2x Unboxing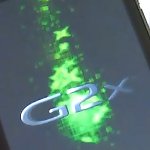 Pulling a fast one on all of us (literally), the T-Mobile G2x came out of nowhere and plopped itself right
for sale earlier today for the customary price of $200 with a 2-year contract
. Undeniably, there is a resounding amount of Android activity surrounding T-Mobile, and with this device, it's sure to impress quite a few faces out there.
Arriving unexpectedly, we're utterly excited to say the least to check out the
T-Mobile G2x
– which so happens to be Tmo's variant of the almighty
LG Optimus 2x
. In fact, we're getting giddy just thinking about it primarily because the US market has yet to see light of a decent high-end Android device from LG's camp up until now. Sadly, there isn't much to find included with its retail packaging – which so happens to be your customary set of items. Yeah, you've got the wall charger adapter, microUSB cable, and usual set of documentation, but there isn't anything else tucked along for the ride to make the unboxing experience memorable. Regardless of that, our eyes were glued directly onto this polarizing handset as we pulled it out from its temporary home.
There's a lot to like about this beauty of an Android smartphone, but before we get too attached to it and make any final reservations, you can check out the unboxing video below to see why we're undoubtedly excited. Expect our in-depth review soon!