T-Mobile Digits wants to be your one and only phone number
3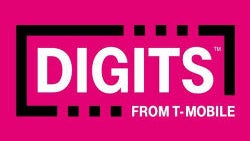 Ever since cell phones started becoming popular, there have been more and more people who have to juggle multiple phone numbers. And, with the more recent mobile device boom, more people have had multiple devices with them at all times. T-Mobile wants to take on both of those issues with its new service -- Digits.
There are two prongs to Digits and both are features that you could have gotten by services like Google Voice, but T-Mobile is hoping it will be easier for customers to deal with it directly through the Uncarrier. T-Mobile says Digits will work on almost any device -- smartphone, feature phone, wearable, tablet or computer -- and allow you to either use one number across all of those device or to simplify having multiple numbers and have all of them work on one device.
Having one number across multiple devices is more of an ease of use proposition, so you can call or text from whatever device happens to be in your hand at the time. T-Mobile is pushing the multiple numbers on one device side of Digits as a way for companies to save money and make it easier for employees to use personal devices for work without having to use the same number.
Right now, Digits is in limited beta and T-Mobile customers can apply to be part of the testing. The newest Samsung devices support Digits natively. Those with other devices can use the service via an app, though T-Mobile said it is working with other smartphone makers to add native functionality.