Swype 3.26 released with better keyboard layout and additional languages support
13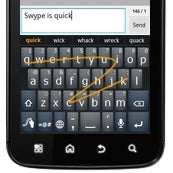 A new version of the popular Swype virtual keyboard has come, and it introduces the long-awaited automatic updates, and adds more languages to the mix.
The nice part is that Swype has support for HD 720p displays now, like those on the
Samsung Galaxy Nexus
, or the
LG Optimus LTE
, but support for devices with Android 1.6 and WQVGA resolution has been dropped. The company got acquired for $100 million by Nuance recently, the guys behind the speech-recognition technology used in the Siri voice assistant software in the Apple iPhone 4S.
Here is the full changelog, as explained by the guys from Swype:
Automatic Updates have finally arrived! Once installed, this latest version of Swype will let you install updates on-the-fly via Swype Connect. When an update is ready, you'll receive an Android Notification informing you that an upgrade is available. Install the update right through the Swype Settings window. Your user dictionary and settings will automatically be saved during the update!
Improved Language Control gives you access to only the languages you use. From Swype Settings you can select which languages will appear when switching languages directly from Swype. Never cycle through a language you don't use again.
The Refined Key Layout brings a better overall user experience, more in line with what users expect. Numbers are now across the top row, and the symbols layer contains several new characters, and a button to switch between 2 pages of symbols.
Redesigned Settings & Help makes it easier than ever to control how Swype behaves, and learn how to become an advanced Swype user. Just long-press to go straight to the Swype Settings window!
The Nuance acquisition is predominantly meant to add more functionality to the accompanying voice-recognition software, like it learning from your typing pattern the way you spell certain names, and acting accordingly when you out a voice command, for example.