Switching between Wi-Fi calling, Wi-Fi texting and cellular service on Project Fi is a subtle treat
11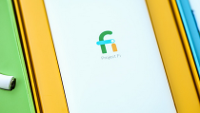 Subscribers to the Google MVNO Project Fi
can use a Wi-Fi or cellular connection for talk, text and data
. The carriers used by the mobile virtual network are Sprint and T-Mobile, and Project Fi customers are required (for now) to use the
Nexus 6
. If you already own the stock Android phablet, inserting the nano SIM card provided by Google will allow you to BYOD to Project Fi.
One of the great features of the Nexus 6 on Project Fi is the phone's ability to determine which of the two carriers has the better signal at any given moment. Once that is determined, the phone quickly connects to that signal. The entire process is done quietly and the phone's owner isn't even aware of the change. In fact, the front status bar will always display "Project Fi" no matter which of the two carriers you are hooked up to at any given moment. Even more impressive is the lack of any change in the user experience that would signal that a switch has taken place.
If you happen to be rockin' a Wi-Fi connection that is fast enough for you to employ Wi-Fi calling on your Nexus 6, and suddenly you are dropped back to a cellular connection, the transition will happen so smoothly that you won't even know that it happened. And with Wi-Fi calling and Wi-Fi texting, calls and messages can be sent and received even when the phone is outside of a cellular network. The Wi-Fi networks used by a Project Fi phone must be completely open with no "click to connect" splash page getting in the way.
The bottom line is that by allowing customers to switch between Wi-Fi and cellular connectivity, Project Fi can offer a low price of $20 a month for unlimited talk and text, with data priced at $10 for each GB of data. The only way to become a Project Fi subscriber is via an invitation. Google says that
everyone who wants an invite will have received one by the middle of the summer
.
source:
AndroidCentral