Sweden is implementing an SMS-based postage system
2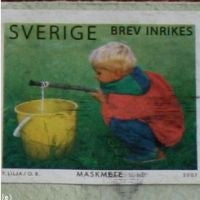 Email,
SMS
, and messaging applications are rapidly replacing our standard mail systems. But snail-mail still has its place from time to time. That's why Sweden is planning to implement an SMS-based postage system. Denmark is already working on their own SMS postage, which will launch on April 1st.
This system will allow the user to send a text message with their parcel's details, and receive a customized postal code in return. They then simply write that code on their parcel, and put it in the mail. This system makes a lot of sense, considering how rarely many people use physical mail. How many times have you drawn up and sealed a letter, only to realize you don't
own
any stamps?
For one thing, you won't have to worry about venturing to the post office for stamps, or keeping track of them. You will also be able to keep track of postage expenses more easily, because it will appear electronically, either on your wireless bill or an individual credit card charge. And finally, you will have access to postage anywhere you have your mobile phone.
There is some concern of potential fraud, but the Swedish postal service is confident that the codes will be no less secure than standard postage stamps. Sorry, stamp collectors. We think this is the way of things to come.
source:
The Local
via
Engadget