Survey says...Verizon has wrested 12% of the Apple iPhone 4 market from AT&T
35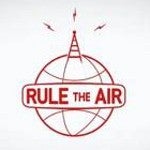 Remember the old days before Verizon actually launched its version of the Apple iPhone? Back then, analysts would make dire forecasts predicting that AT&T would never be able to survive the large number of estimated customers that would make the switch to Big Red with its more reliable cellular network.
With more than a month gone by since Verizon started selling Apple's touchscreen handset, some information is leaking in. According to a survey done by mobile ad network Chitika, Verizon has a 12% share of the U.S. market for the Apple iPhone 4. The survey is based on iPhone web usage and a method to determine which version of the handset is in use at a particular site.
Neither carrier has released official numbers, but in regards to the estimated 87% U.S. iPhone market share that remains with AT&T, executive Ralph de la Vega said that the figure was "within our expectations". As for Verizon's viewpoint, spokesman Dan Mead blamed the relatively light retail sales action for the handset on the carrier's record setting pre-order sales turnout, which seems to have damped some current demand for the Verizon version of the phone.
source:
Chikita
via
electronista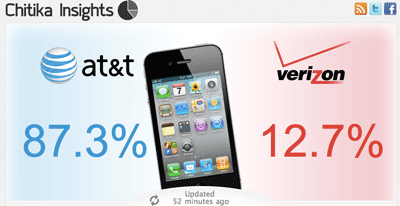 Verizon has taken an estimated 12% of AT&T's iPhone market share