Survey: iPhone users more likely than Android users to upgrade their smartphone once every two years
80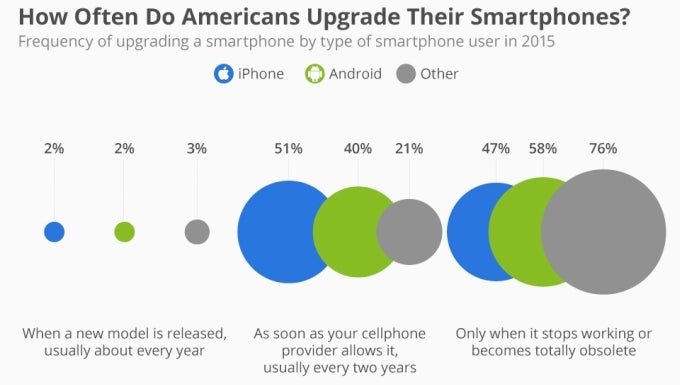 A new survey conducted by Gallup reveals that the two-year update rule is still enforced in the US smartphone market, while only a very small percentage of smartphone owners update to newer models as soon as they are available.
The study finds that iPhone users are more likely than Android users to replace their handsets as soon as their carrier allows it, which is usually once every two years. The survey reveals that, across the United States, 51% of iPhone users and 40% of Android users fall into this category.
The remainder 47% of iPhone users and 58% of Android users update their smartphones only when their current device stops working or becomes completely obsolete.
According to the poll results, just 2 percent of all smartphone users in the US replace their devices as soon as a newer model is available. This statistic is the same for both Android and iOS. The few of you who fall in this category might want to check
T-Mobile's Jump program
, one that allows you to upgrade your handset up to three times each year for $15 extra per month.
Gallup says that these results are based on a total pool of 8,234 iPhone users and 6,072 Android users, with samples being weighted to be representative of the US adult population based as per the 2012 Current Population Survey.
How often do you update your handset? Drop us a comment in the section below and let us know if these results make sense to you!