Surprise, surprise! Microsoft is "excited about Nokia", "less excited" about the Nokia X
49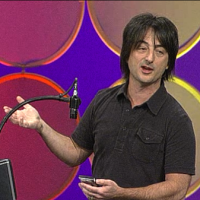 At the ongoing MWC 2014, someone had the one-of-a kind opportunity to ask Microsoft in the face how the company feels about Nokia's upcoming Android-in-disguise phone, the Nokia X. As you are probably aware, MS is about to complete the acquisition of the Finns' mobile devices division. It also hates Google with a fiery,
chairs-thrown-across-the-room passion
. Both factors make this question quite the low-blow.
Luckily, Microsoft delivered a handsome response. "They [Nokia] will do some things we're excited about, and some things we're less excited about." - said Senior Executive Joe Belfiore (pictured), confirming the
overwhelming public suspicions
that Microsoft might be, indeed, not very excited about sharing its flat with Android.
However, Microsoft's animosity towards the competing platform didn't reach farther than Belfiore's adorably laconic statement. He went on to glorify Nokia, boasting about the "terrific engineering relationship" the Finns have with MS, and being "proud of the work" they do together.
Ultimately, the fate of the Nokia X seems to be spared, along with that of
another two Android models
. Nokia keeps churning out five-second episodes of its wacky Green Duck series of teasers. The latest one, #5, hit the internet today. And the Nokia X, a low-end handset that runs a fork of Android meticulously stripped of all things Google, should be announced very, very soon. Last we heard, it is already
in production in Hungary
.
source:
TechCrunch