Surface RT screen not sharper than the new iPad, says screen guru, Surface Pro might have a shot
17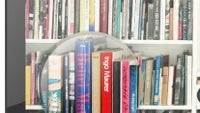 A Microsoft head of research claimed the other day during comments about the
"making of" Surface video
, that its display is on par with the new iPad's "Resolutionary" unit, despite the much lower pixel density.
His premise was that
the reflectance ratio of the Surface tablet is smaller
, plus it uses the patented ClearType font drawings, while higher reflectance affects contrast and perceived resolution when light is falling directly on the screen, like he demonstrated: "
Doing a side by side with the new iPad in a consistently lit room, we have had many people see more detail on Surface RT than on the iPad with more resolution.
"
Everyone's favorite display guru Dr Raymond Soneira from DisplayMate, however, expressed its doubts about those claims, as he compared an Asus netbook with ClearType and the Surface's resolution, to the
new iPad
, and an
iPad 2
. He concluded that the netbook was "significantly sharper" than the iPad 2, but "significantly less sharp" than the new iPad′s "Resolutionary" screen.
Dr Soneira, however, mentioned that while the
Surface RT
tablet might not be up to par with the 3rd iPad generation screen, the 1920x1080 display on the
Surface Pro
with ClearType might have a clearer shot at the clarity crown:
The Result:
The Windows ClearType 768p display on the Asus Netbook was significantly sharper than the iPad 2 768p display but also significantly less sharp than the new iPad 3 1536p display. It is certainly possible that the Microsoft Surface RT Tablet will perform better than the Asus Netbook, but it is very unlikely that it will turn out to be visually sharper than the new iPad 3. On the other hand the Windows Pro version of Surface will have a 1920x1080 208 PPI screen, and it is quite possible that it will be comparable in sharpness to the new iPad 3 with 2048x1536 264 PPI. It will be really interesting to compare them all... including the displays on Windows Tablets from other manufacturers, who might provide better displays than the Microsoft Surface...