Surface Pro 4 firmware update improves battery life, brightens screen
0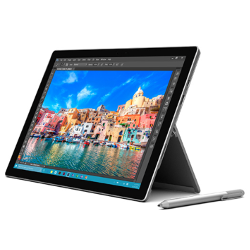 Owners of the
Microsoft Surface Pro 4
will be doing their happy dance when they hear about the firmware update now available for the tablet. The update will improve the slab's battery life while extending the cell's standby performance while the device is sleeping. A longer standby time means you start each morning with more battery life at your disposal. Another bit of good news deals with the fix of an issue with the screen's brightness after being awoken out of sleep. What's the deal there? Most of us aren't terribly bright when we first get up in the morning.
Seriously though, Surface Pro 4 users have been complaining about how dark the screen is when it comes out of sleep, and today's update fixes that problem. Brightness settings are also now "refined," and the touch functionality of the tablet has been optimized.
The changelist for the update includes:
Surface Embedded Controller Firmware (103.1684.256.0) improves battery life during sleep.
Intel(R) Precise Touch Device (v1.2.0.83) disables touch when cover is closed and improves stability.
Surface Integration (v1.0.121.0) adjusts system hibernation defaults
Surface Touch Servicing ML (v1.0.724.0) updates touch functionality.
Surface System Aggregator Firmware (v103.1610.256.0) resolves screen brightness issues when device comes out of sleep.
Surface UEFI (v106.1624.768.0) refines brightness settings.
Surface Touch (v57.1.1.1) optimizes touch functionality.
You can update the Surface Pro 4 by tapping on the Microsoft sourcelinks, which take you to the Surface Pro 4 Drivers and Firmware Page and the Surface and Windows Update page.

source: Microsoft (1), (2) via MSPoweruser