Students allegedly forced to work at Foxconn assembly lines as new iPhone nears
46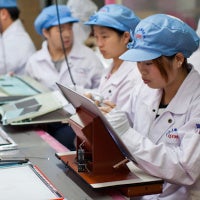 Just a day before Apple's big day tomorrow when it is expected to introduce its brand new sixth-generation iPhone, a new overseas work labor scandal is heating up. Foxconn, the factory where Apple's iPhones are manufactured in China, is accused of using forced student labor.
Foxconn has earlier admitted that its using student interns to help out with iPhone manufacturing, but two groups defending worker rights now say they've spoken to students who have complained they've been forced to work there by their teachers. The plant in question is the Foxconn Zhengzhou facility in north-central China.
Last week, Chinese state-operated media reported about vocational schools in the Huai'an district in eastern China obliging hundreds of students to work long hours at the assembly lines for the new iPhone.
This time of the year, days before the iPhone gets officially unveiled, Foxconn is extremely busy manufacturing the Apple devices as demand has skyrocketed in the last couple of years.
"They said they are forced to work by the teachers,"
Li Qiang, founder of China Labor Watch said about the student labor issue. "They don't want to work there — they want to learn. But if they don't work, they are told they will not graduate, because it is a very busy time with the new iPhone coming, and Foxconn does not have enough workers without the students."
Right now, the statistics show that students make up a very small percentage of the total Foxconn workforce, around 2.7%, or 32,000 of the total 1.2 million staff employed in China.
Earlier, after numerous reports accusing Apple of poor working conditions at its factory, Cupertino agreed to an
audit by the independent Fair Labor Association
. The audit concluded with virtually no major violations found, except for the long hours of monotonous work. Apple announced it will increase the salary for its workers afterwards.
source:
NY Times