Storm 2, Touch Pro2, Omnia II and possibly the Pre - all in Verizon's inventory database
This article contains unofficial information.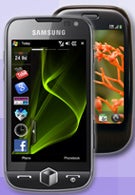 One of our most loyal tipsters has just shared some quite spicy info with us. Hi-end handset lovers will be delighted to know that the
RIM BlackBerry Storm 2
, the
HTC Touch Pro2
(XV6875), as well as the
Samsung Omnia II
and
Convoy U640
(okay, this one might not be that hi-end really) have now appeared in
Verizon's
inventory database. Unfortunately, we do not have any other details on these guys as of now, but hope this means we will see them official soon enough.
You didn't think this was over, did you? Interestingly enough, two Palm devices have also found their way to the carrier's system. Codenamed
P101
and
P121
, we have absolutely no idea what these are, but we can still speculate a bit by saying that there is a chance for the P101 to be the
Palm Pre
itself. The reason for this is that back in March, when we got to check out the leaked
2009 roadmap of Sprint
, the Pre was mentioned also as the P100. So, could the P101 be the Verizon Pre and could the P121 be the Eos? Alright, alright, we won't push our luck here and will just wait for something new on the matter.
RIM BlackBerry Storm 2 Preliminary Specifications
HTC Touch Pro2 Preliminary Specifications
|
Review
(EU)
Samsung Omnia II Preliminary Specifications
|
Review
(GSM)
Samsung Convoy U640 Preliminary Specifications
Palm Pre Specifications
|
Review
Palm Eos Preliminary Specifications
Thanks, Snapdude!
If you have some interesting info that you'd like to share with us, feel free to
Tip Us!