Stop Restart App listed in Windows Phone Store to stop Windows Phone 8.1 models that randomly reboot
10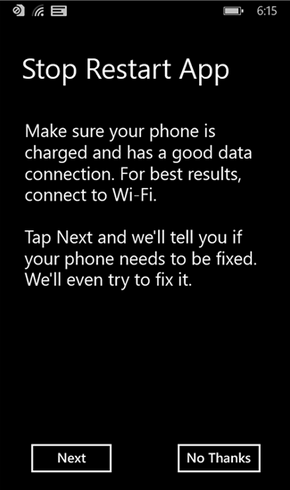 The Stop Restart App will stop your Windows Phone 8.1 model from randomly rebooting
Microsoft has published a new app in the Windows Phone Store called the
Start Restart App
. The app is a bit unusual since the one and only thing it does is fix an issue with Windows Phone 8.1 powered units that causes the handsets to randomly reboot. Originally, Microsoft sent out updates to the
Nokia Lumia 930
,
Nokia Lumia 830
,
Nokia Lumia 810
,
Nokia Lumia 730
and the
Samsung ATIV S
to name a few.
As Microsoft puts it, "
We've already made a fix that has resolved this problem for the majority of Windows Phones. However, some phones that have not connected to Microsoft servers still need the fix to be applied."
When you open the app, it first checks to see if your handset has received the update. If you haven't received it, and you are hooked up to a Wi-Fi network, the app will install the fix right then and there. You do need to make sure that your battery is charged up before opening the app.
Have you been experiencing random reboots on your Windows Phone 8.1 powered handset? If so, this app could solve your problem. Some of the initial feedback from those who installed the app indicates that it might not be a cure for every Windows Phone 8.1 model. Did it fix your phone? Let us know by dropping your comment into the box below.
source: StopResartApp (
WindowsPhone)
via
WMPoweruser