Stolen truck containing shipment of LG G2 units found
27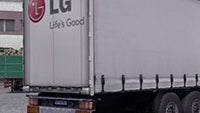 You might remember that on Saturday, we told you the story about the truck driver that had to answer when nature called only to
come out of the bathroom to find out that his truck was stolen
. And no, this truck didn't contain a bunch of melons for the market, or something with little value like the latest Katy Perry album. This truck had a payload consisting of 22,500
LG G2
handsets. At least the thieves went for a top-shelf model that is well spec'd.
The truck was stolen in Gary, Indiana enroute to a Sprint distribution facility in Louisville, Kentucky. The FBI was called in to find the truck and its cargo, worth over $12 million (only $4.5 million with a signed two-year contract!)
We are thrilled to report that the truck has been found with all of those LG G2 units intact. 40-year old Juan Perez Gonzalez was arrested, but has already bonded out of jail. Gonzalez allegedly stole the truck and then crashed it into a utility pole. He was charged with leaving the scene of an accident, receipt of stolen property and theft by unlawful taking. Law-enforcement officials believe that Gonzalez had accomplices. A number of police agencies are still working the case.
Thanks, Anonymous Tipster!
source:
WDRB