Sting makes classic phone ringtones sound awesome, listen to his version of Marimba and the Nokia tune
12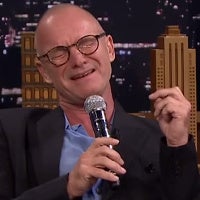 Sting is one of probably the most universally liked and recognized artists that has captured the hearts of people of all ages with his haunting voice ever since the times of The Police, and recently, he sat down for an interview with Jimmy Fallon of The Tonight Show.
Fallon decided to give Sting an interesting challenge - to recreate classic phone ringtones in that breathy manner of his, and the end result is nothing short of spectacular.
Starting with recreations of the iPhone Marimba ringtone that used to be all over the place just a couple of years ago, then the classic Nokia ringtone, and a couple of others, Sting converted these into what sounds like a classic Police tune.
It all ended with an artistic voice mail song recorded live for a lucky someone from the audience. Check it all out below, how do you like these 'Stingtones' - are they better than the originals?
source:
The Tonight Show Starring Jimmy Fallon