Steve Jobs talks iTunes and iPod with Dr. Dre in this video
37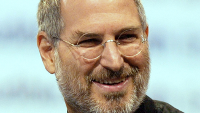 With
Dr. Dre confirming in a video selfie
that Apple is about to make him the first hip-hop billionaire (give or take $200 million), it might be interesting to check out this video showing a video chat between Dre and the late Steve Jobs. The late Apple co-founder had a strong affinity for the sound of the 60's as produced by Bob Dylan and the Beatles. When it came to rap, Jobs was not exactly a fan.
The
rumored Apple-Beats Audio deal is expected to be announced this week
with Apple expected to pay $3.2 billion for the company. This would be the largest acquisition in Apple history.
Getting back to the video, Dre talks about his latest album with Jobs inquiring about when it will be ready for iTunes. Dre also congratulates Jobs on the introduction of the iPod. We're not sure how the good Doctor felt abut hearing his music referred to as "stuff" by Jobs, but when the deal is announced this coming week, as expected, we know who will be having the last laugh.
source:
YouTube
,
9to5Mac
via
RedmondPie