Steve Jobs reached out to Samsung in July 2010 about the Galaxy phones, says Apple's patent attorney
36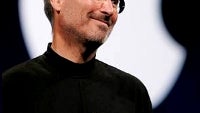 Out of the
Australian court proceedings in the Apple-Samsung dispute
comes this little nugget of information - that in July of last year Steve Jobs himself had reached out to Samsung to inquire about the Galaxy S smartphone and try to mediate a settlement.
His renowned persuasive skills obviously didn't impress Samsung's representatives, and he apparently gave the green light for Apple's attorneys to start the epic
patent infringement war
we are knee-deep in at the moment.
These revelations come courtesy of Richard Lutton, who is a high-ranking director at Apple and its patent attorney. He also said that once the patent infringement talks between Apple and Samsung began, Steve ceased his involvement and left it to his legal department.
While responding to questions by Samsung's lawyer David Catterns, Mr Lutton noted that Steve Jobs's involvement was a simple courtesy call: "
Samsung is an important supplier with whom we have a deep relationship. We wanted to give them a chance to do the right thing.
"