Pencil – the iOS sketcher's dream, now available in Europe
8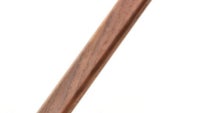 FiftyThree's "Paper"
is probably one of the most popular sketching apps available for the iPad. With an engine built to simulate the results one might expect when drawing on actual paper, it quickly gained popularity, though one thing was clear – if you are going to be drawing on your tablet – you definitely need an appropriate stylus.
Well, the developers aim to deliver, as at the start of this year, they released their own stylus – "Pencil". The device pairs perfectly with Paper, giving the user a much more sketchbook-like experience. Until now, it was only available in the US, but as of today, it is up for sale on Amazon's France, Germany and UK websites.
Pencil is equipped with a soft, friction-free tip on one end and a unique "eraser" on the other, which allows you to flip the stylus and use it like a genuine pencil's eraser – deleting any parts of the drawing you deem unfit. Furthermore, the Paper app can tell the difference between Pencil and your palm, so you can rest your hand anywhere on the device while drawing, without worrying about the app receiving input from your skin touching the display. Another impressive feature is the ability to smudge the drawing with your fingers – again – the app can tell whether you are using the stylus or your finger on the drawing. If it is the latter, it will smudge the lines and blend colors where you swipe – much like one could do when sketching with a real pencil. Come iOS8, FiftyThree promise that Pencil will also support different pressure levels.
Download Paper (
iOS
)
source:
Pocket-lint