Steve Jobs becomes a comic book hero in August
23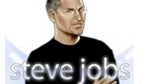 He might not be
faster
than a speeding bullet or more
powerful
than a locomotive, but Apple CEO Steve Jobs gives a heck of a keynote speech and is a whiz at
introducing new devices
to the public. The executive is about to star in his own comic book called "
Steve Jobs: Co-founder of Apple
". And while he doesn't have a sidekick like Batman's Robin, he does have a partner in the somewhat erratic Steve Wosniak. And while there is no villain as elusive as the Joker, or a death stone like Kryptonite, there is
John Sculley
.
According to Darren Davis, president of publisher Bluewater Productions, Jobs' story is
mythical
enough for a comic book hero.
"His innovations command

front page news

, speculation of his health affects the stock market. Not bad for a college dropout," Davis said. CW Cooke, writer of the comic, chimed in by saying that it would be hard to find someone who has influenced the way we do

business

,

interact

and

communicate

as much as Steve Jobs has.

The 32 page comic book was drawn by
Chris Schmidt, with cover art by DC artist Joe Phillips. It will be available in August at a price of $3.99 from comic book stores and bookstores. It can also be purchased online from Amazon, Barnes and Noble and Borders. The publisher has had prior success in this line of work with a 48 page comic on Facebook founder

Mark Zuckerbook

that is being made into a graphic novel that will sell for $10.99.

source: PCMag

Recommended Stories