Steve Ballmer makes the case for the Surface: it's reimagination of computing, not a "compromise"
27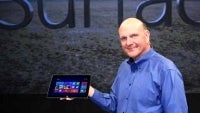 Apple's CEO Tim Cook took to the airwaves during the conference call with investors last week, noting that
the Surface tablet concept is a "confused and compromised" product
, and you have to either have a laptop, or a tablet, otherwise both will be like a "floating car", doing neither too well.
Microsoft's CEO Steve Ballmer begs to differ, of course, on the whole jack-of-all-trades-master-of-none argument, despite being a few years late to the tablet game, with the iPad recently crossing the 100th million sold mark.
Steve Ballmer elaborated in an interview for CNBC:
I don't think anybody has done a product that is the product that I see customers wanting. You can go through the products from all those guys … and none of them has a product that you can really use. Not Apple. Not Google. Not Amazon. Nobody has a product that lets you work and play that can be your tablet and your PC. Not at any price point.

This is a first-class tablet that people can enjoy and appreciate - it's a PC; it's a tablet. It's for play; it's for work. It's a got a great price. That product doesn't exist today.