Stephen Elop: the focus of much Nokia shareholder anger
61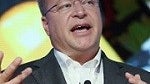 While Nokia's
shareholders approved of the deal for Microsoft
to acquire the "Devices and Services" business unit of the iconic Finnish brand, shareholders also used the meeting to direct their anger at Stephen Elop, the company's CEO.
The attacks apparently grew so personal that Nokia chairman Manne Airaksinen had to restore order and ask participating shareholders to refrain from such attacks against Elop.
Some of the shareholders described Elop's reign at the company as a "triple A flop." It is also said that other accused him of putting Nokia on the road to ruin and that the shareholder meeting was in essence, "the funeral of Nokia phones."
To be sure, Elop's time at Nokia has not been serene by any measure. We know our own readership has its collection of opinions about what Nokia should have or could have done. Elop was also getting ripped from all sides over his $25 million payout that he will get when the deal is done. Knowing how expensive divorces can be (as his is pending) however, Elop is wisely keeping every penny.
sources:
Uusi Suomi
via
BGR