Nokia shareholders okay Microsoft deal
50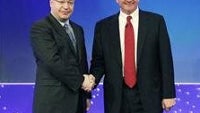 Nokia shareholders have put a seal of approval on the pending Microsoft acquisition of the "Devices and Services" phone business of the Finnish company. The stockholders gave the deal the green light in an extraordinary general meeting at the Helsinki Ice Hall today. Microsoft has earlier extended a $7.2 billion (€5.4 billion) offer to purchase Nokia and an overwhelming 99.7% of the shareholders voted in favor of the acquisition.
If the acquisition passes the final step of regulatory approval, Microsoft will own the Lumia and Asha brands, as well as get access to the Nokia brand. Here is where it gets complicated as Nokia itself will be prohibited from entering back the phone market with its own brand until 2016. After the first half of 2016, Nokia could also start licensing its brand to third parties, so we theoretically we could end up with three companies making Nokia branded phones in late 2016. Theoretically. Actually, Microsoft has agreed to pay some $2.23 billion of the total $7.2 billion acquisition price just for a 10-year non-exclusive right to Nokia's smartphone patents and Here maps. Plus, Microsoft can further extend that licence.
Second, current Nokia CEO Stephen Elop will depart the company and rejoin its former employer of Microsoft. Speculations are running wild over who will be the next Microsoft CEO and Elop is allegedly among the top two candidates along with Ford chief executive Alan Mulally.
Overall, though, we are yet to hear what's Microsoft exact plan for Nokia and how will it integrate the Lumia and Asha series in its current lineup.
Microsoft is said to have entered serious negotiations over the massive deal back in February at the Mobile World Congress where the chief executives of the two companies conceded that their cooperation did not bring the results they have hoped for. Since then, Nokia's board is set to have discussed the acquisition proposal dozens of times.
"Subject to the deal with Microsoft closing, Nokia's earnings profile and financial position are expected to strengthen significantly,"
Nokia CFO Timo Ihamuotila commented on the deal at the company's last earnings call. Indeed, Nokia's NSN and HERE divisions are the two profitable divisions of the company while its previously legendary phone division has been in the red for the last few quarters since the Windows Phone transition began.
source:
Financial Times
(paywall) via
TheVerge