Starwood Hotels has big plans for the Apple Watch
35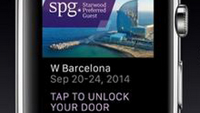 If you're staying at a Sheraton hotel next year, you might be able to enter your hotel room by flashing your Apple Watch at the lock. Starwoods Hotel, which owns the Sheraton name along with Westin and W Hotels, has big plans for Apple's recently unveiled timepiece. Allowing entry into your hotel room with the timepiece is just one way in which Starwoods is planning on using the Apple Watch to enhance the experience of its guests.
Starwood envisions a scenario in which travelers arrive at the airport and receive a notification on their Apple Watch, giving them transportation options to the hotel. Once at the hotel, another notification gives you your room number, along with instructions on how to use Apple's first wearable to get into your room. At the hotel restaurant, a notification will ask if you want your usual drink brought to the table.
Starwood is betting big on technology. It is working on an app for the Apple iPhone that will launch next spring. The app allows the handset to open hotel rooms at the W Hotels. This could end up being offered at other Starwood properties as well. Who needs a key when you have an Apple iPhone or Apple Watch?
"When Apple Watch is available next year, we envision endless ways Apple Watch could help us enhance our guests' experiences at our hotels from instantly recognizing guests with a warm, personal welcome to empowering our SPG members to bypass the front desk. When you arrive at a destination airport, a notification will take you to a list of transportation options to your hotel. When you arrive at the hotel, a notification shows you your room number with instructions for using Apple Watch to unlock your room and when you arrive at the bar, you'll be asked via notification if you'd like your usual drink brought to your table. You can also view your SPG account in Glances. The marriage of high tech and high touch is poised to transform the hotel experience in so many exciting ways and at Starwood we're committed to being on the cutting edge of what's next."-Starwood Hotels
source:
Yahoo