Starting today, a few handsets will be able to send a Duo video chat from a trio of Android apps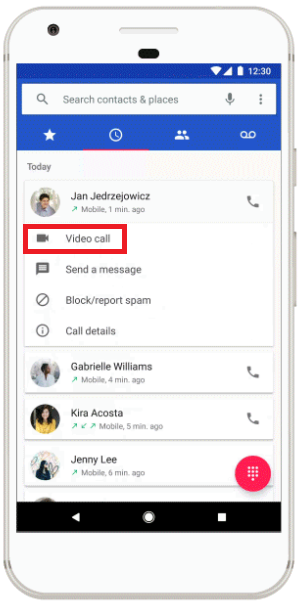 With certain Android phones, a Duo video chat can be initiated from call history and search
Google's video chat app Duo offers iOS and Android users a smooth and simple way to make video calls. Starting today, on certain Android handsets, a trio of apps will allow users to make video calls using Duo. Calls can be made to contacts through your Android Phone, Contacts and Android Messages apps. Each one of those three options have a different way to initiate a call.
From the phone app for example, the option to make a video call will appear in call history and search. In Contacts, next to your contact's name, the option to make a Duo video call will surface. And in the Android Messages app, you can begin a video chat directly from your conversation. Both you and the person you're calling will need to have Google Duo installed and both of you must have Android 7.0 or higher on your handset.
For the moment, only those sporting a Nexus,
Pixel
,
Pixel XL
or an Android One handset will be able to use Duo on the aforementioned Android apps. The
Pixel 2
and
Pixel 2 XL
will also have this capability when they are launched. If you don't own one of the compatible models, don't fret. Google says that it is working with its device and carrier partners to bring this feature to a number of Android devices. When this might take place is unknown; also unknown are the names of other Android models that will be getting this feature. In addition, Google says that if a video chat is taking place between two handsets supporting ViLTE (Video over LTE), the video will be carried over the latter rather than through Duo.
source:
Google