Square Credit Card Reader allows you to conduct your business on the go
1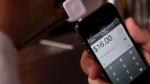 With the economy what it is now, most businessmen can not afford to lose even just one sale. So if you are out of the office and cannot authorize a credit card, it could cost you and your family. A few months ago, we told you about the Square Credit Card Reader which is simple to use.
A dongle is plugged into the 3.5 inch earphone jack which is used to swipe your customer's credit card. Using a secure connection, information about the transaction is sent OTA to the seller's phone where the buyer "signs" for the purchase using a finger. A receipt is sent to the purchaser via e-mail or SMS and the funds are zapped out of one bank account and into the other.
The merchant has to pay 2.75% of the purchase price plus 15 cents for each swipe. There are no set-up or monthly fees and no contract is needed. Square co-founder Jack Dorsey was one of the founders of Twitter. He said, "The doors are (finally) open @Square & we're going big. Indeed, this will be huge in the way individuals and smaller business deal with transactions. While Square will naturally be taking a percentage of transactions, it's much smaller than what you'd have to fork over in setting up a traditional POS terminal."
Dorsey says that the doors are now open at Square and that anyone downloading the app can get the card reader including a new slimmer model made for those using the Apple iPhone 4. Besides the iOS devices, certain Android models can use Square's technology including the Motorola DROID, the Motorola DROID X, the HTC Nexus One and the Samsung Galaxy S. One thing we are sure of, Square allows a company to become more mobile, no longer tied to the umbilical cord of the telephone wire and that can only be positive for the economy.
source:
IntoMobile