Sprint's iPhone 4S to come unlocked for international use, Verizon can unlock it for you after 60 days
5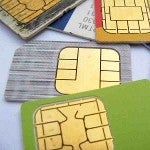 UPDATE:
Sprint debunked the rumor that it will offer the iPhone 4S unlocked, without even specifying a path to do so while traveling, while Verizon reconfirmed the handset will be subject to its regular "60 days in good standing" unlock policy, and you will have the right to free it up for international travel once every ten months.
It seems that both Sprint and Verizon will be applying their
current "world phone" policies
to the
Apple iPhone 4S
on their networks. Sprint's phones will come unlocked, so when traveling internationally, you can pop any GSM card in the microSIM tray of the iPhone 4S, and it will hook you up to the respective network. It's not clear yet if Sprint will unlock all GSM frequencies, so you can insert an AT&T or T-Mobile SIM, or just the 900/1800 MHz bands for international travel.
The downside is that you will be using a different number than your US one, so you have to plan accordingly. Of course, you can stay with Sprint's "roaming SIM" card in, but then the international roaming charges are no picnic.
A Verizon spokesperson has commented that the carrier will apply its regular "world phone" strategy to the iPhone 4S, so after 60 days of good standing with bills and such, you can ask Verizon for the handset to be unlocked for international travel.
So far Verizon's unlock applied to the 900/1800 MHz bands, not the 850/1900 that AT&T or T-Mobile use, and it is to be determined if the carrier will keep the same scheme.
via
Macworld
&
SlashGear