Sprint's iDEN network shuts down tonight at 12:01am Sunday
12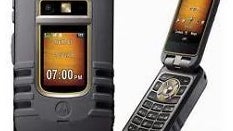 Just a reminder. If you still have a Sprint branded phone that connects to the carrier's iDEN network, the
network goes dark at 12:01 am EDT
. Last year, Sprint stopped selling phones for the pipeline, informing its customers that
the network would be turned off on June 30th, 2013
. Hopefully everyone affected has heard the news. If not, there are going to be some awfully surprised Sprint customers when the clock ticks off the beginning to Sunday morning.
At the end of Sprint's first quarter, the company still had
1.3 million subscribers
using the iDEN network. Sprint expects to keep 30% to 40% of these as Sprint customers while the rest will end up with a different carrier. In the first quarter, the carrier lost a total of 415,000 customers. The nation's third largest carriers has 55.2 million subscribers. 771,000 iDEN customers dropped out in the quarter, although Sprint was able to recapture 46% of them.
Sprint will dismantle the iDEN network and recycle any material it can use. The 30,000 iDEN cell sites will generate 100 million tons of equipment. Not being recycled is the Nextel name that has long been associated with PTT. Following the closing of the SoftBank deal, the company will be known as just Sprint.
source:
PCMag