Sprint's after Xmas sale brings discounts on certain phones and tablets
30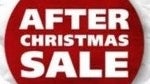 A leaked document obtained by
SprintFeed
shows that the nation's third largest carrier plans on
dumping inventory
in an after Xmas sale. The discounts will start the day after Santa visits (natch) and runs until January 7th when we are already starting our New Year's rut. The discounts require you to sign a two-year contract and with the 2012 CES coming just after the sale ends, Sprint appears to be cleaning house to make room for the newest devices.
The sale will allow you to pick up the
Samsung Relplenish
for free, or pay just $99.99 for the
HTC EVO 3D
. The
HTC EVO Shift 4G
will cost you $49.99 during the sale while the price tag will read $199.99 for the
HTC EVO View 4G
. For the same price, you can choose the
BlackBerry PlayBook
.
If Santa didn't give you the phone that you really wanted, and it is one of the models listed above, you can mosey over to your local Sprint store after the Christmas lights have been turned off. Not only will you be saving some money for yourself, you will be helping the carrier do some much needed housecleaning in preparation for the next generation of smartphones.
source:
SprintFeed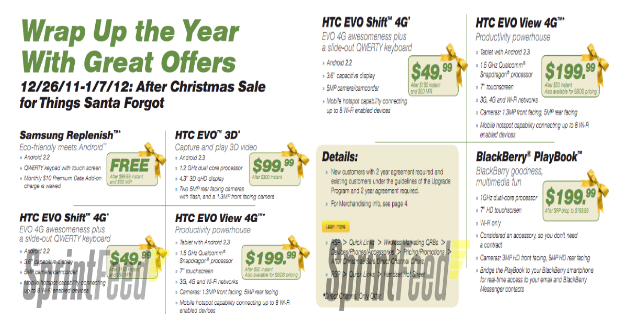 Save some money with Sprint's after Xmas sale
Recommended Stories