Sprint's Dan Hesse brings 'nukes' to stop AT&T-Mobile merger, Sprint's survival is at stake
27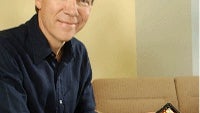 Up until now, Sprint's CEO Dan Hesse has been the most outspoken critic of the
$39 billion merger
between AT&T and the country's fourth largest carrier T-Mobile. But to stop something of this scale you need big guns like nukes and that's symbolically exactly what the chief executive is mapping out on his whiteboards in red, blue and green ink.
"Clearly, purely, we want to win and block the merger,"
Hesse stressed in an interview for Bloomberg.
"This one poses real risks."
That's why Sprint's man in charge has tripled the time spent on
government affairs
, but he's also trying to get
technology executives
and
lobbyists
to join in the cause. AT&T claims that the deal will grant high-speed data access to a huge portion of the country's population, but Sprint rigorously tries to prove that AT&T could easily boost capacity within its existing network.
The current goal for Hesse is to get
18 state regulators
to look into the deal and he has even more aces up his sleeve, which he didn't disclose. The executive's main point is that the merger would hurt competition significantly. Just how much?
Sprint's very existence
as an independent company is
threatened
according to the CEO. But finally it's the industry that will take the biggest hit after all:
"The industry just won't be as innovative and as dynamic as it has been,"
Hesse mentioned.
"It'll gum up the works when everything has to go through these two big tollbooths, one that's called AT&T and one that's called Verizon."
Hesse spent 23 years at AT&T and for three of them he ran the company's wireless operations, but he claims that the fight is not personal. It's sure to get some serious opposition though as if the deal breaks up
AT&T will owe T-Mobile $6 billion
.
"That's just not my concern at all, one way or the other,"
Hesse said.
"I'd feel like we did the right thing for the industry."