Sprint says its LTE Plus is the most improved wireless network this year
36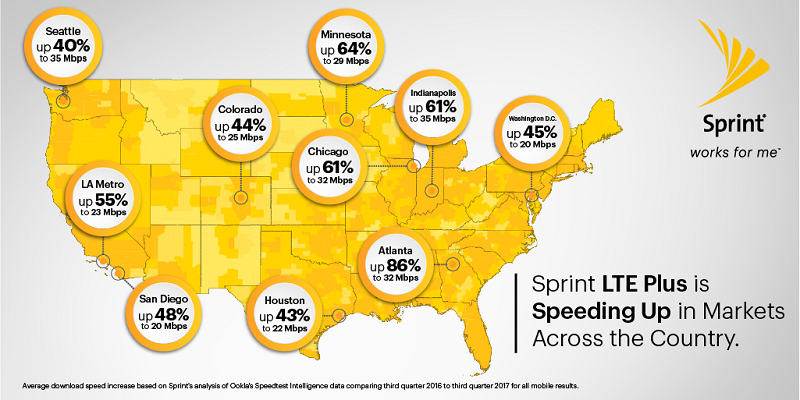 Sprint claims that its LTE Plus network is the most improved wireless pipeline of 2017
Sprint Chief Operating Officer Günther Ottendorfer boasted today that Sprint's LTE Plus is the most improved network of 2017. The executive wrote that year-over-year its average download speed rose by 33%. In 25 of its 99 top markets, average download speed rose by 40% to 100% based on data taken from Ookla's Speedtest Intelligence. According to the COO, part of the improvement was due to the employment of more 2.5GHz spectrum by the carrier. Ottendorfer says that the more spectrum Sprint uses for its LTE Plus network, the faster the network becomes.
One new tool soon to be in use on Sprint's LTE Plus network is Massive MIMO, which will debut in the first half of 2018. This adds additional data connections between a cell tower and a handset, increasing the carrier's capacity and allowing data speeds to increase. Currently in use is multiple carrier aggregation and beamforming. The former increases capacity and data speeds by combining different swatches of spectrum owned by Sprint in a particular market. With beamforming, LTE signals can be sent to cover a specific area. This also increases the capacity of Sprint's LTE Plus network.
Sprint released examples of how download data speed increased sharply year-over-year in ten cities. Those markets include:
Atlanta – Up 86% to 32 Mbps
LA Metro – Up 55% to 23 Mbps
Chicago – Up 61% to 32 Mbps
Minnesota – Up 64% to 29 Mbps
Colorado – Up 44% to 25 Mbps
San Diego – Up 48% to 20 Mbps
Houston – Up 43% to 22 Mbps
Seattle – Up 40% to 35 Mbps
Indianapolis – Up 61% to 35 Mbps
Washington DC – Up 45% to 20 Mbps
Is Sprint turning things around? Two months ago, the company reported its first quarterly profit in three years. Of course, one report is just that, one report. But with signs of an improvement in its network and with its financial results, it would appear that the nation;s fourth largestc arrier has bottomed out and is ready to make a turnaround.

"It's a great time to be a Sprint customer with download speeds up in markets all across the country. And there are more great advancements on the horizon. Our teams are working hard to roll out higher order and Massive MIMO, 256 QAM, Gigabit Class LTE, and four-channel (and later five-channel) carrier aggregation. These technologies will add more capacity and performance to the network and make more efficient use of our 2.5 GHz spectrum. They'll also improve the network experience for ALL Sprint customers! As I like to say, when it comes to the Sprint network, you ain't seen nothing yet!"-Günther Ottendorfer, COO, Sprint
source: Sprint