Sprint reportedly setting up equipment to boost its signal inside an Apple Store, hints at 4G
40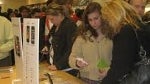 We don't want to get some hopes up, but according to a report in
Beatweek
,
Sprint's version of the Apple iPhone 5 could include 4G support
. A source for Beatweek who works for an electrical contractor says that this contractor has been under contract to install 5 Sprint "repeaters" around the Domain mall in Austin Texas. One of the repeaters is to be installed inside an Apple Store at the mall. A store representative that we spoke to tonight said she could not comment on the situation.
According to the report, the equipment being installed is said to be both CDMA and 4G for Sprint. The nation's third largest carrier uses WiMax for 4G service and
Apple in the past has hired engineers familiar with that service,
although there has been no word-official or unofficial-that would suggest that the Apple iPhone 5 would support 4G either through Verizon's LTE or AT&T's HSPA+ pipeline. As of now, Sprint has not officially announced that it would carry the next-gen iPhone,
expected to be introduced this month and launched in the U.S. early next month
.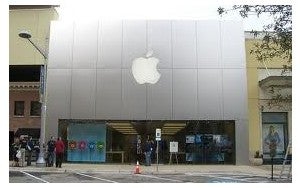 The Apple Store at the Domain mall in Austin Texas
Having the "repeaters" installed in and around the Apple Store would improve coverage from the carrier
in case Apple customers want to test out a Sprint branded Apple iPhone 5
. As we
reported
, Bloomberg recently published a story confirming that Sprint has already signed a deal with Apple and will indeed get to add the iconic touchscreen phone to its lineup when the next-gen version launches. Sprint has also recently asked its reps
not to talk about the coming addition of the iPhone 5
to its lineup. Additionally,
we told you
that as of September 9th, Sprint's ETF on advanced devices rises from $200 to $350. Some have considered this to be a sign that the Apple iPhone is coming to the carrier.
We also
informed you
that on October 7th, Sprint is to hold a "Strategy Update" which might not only discuss its 4G plans, but might also be an official announcement about a Sprint branded variant of Apple's touchscreen handset. If Sprint does get the device, it hopes to stop the bleeding that has been occurring as the
carrier had a net loss of 101,000 customers last quarter
. One analyst sees Sprint selling 1.2 million units of the Apple iPhone 5 in Q4 alone. If somehow Sprint ends up as the only carrier to offer a 4G model of the phone, those numbers might seem too conservative.
source:
Beatweek
via
AppleInsider