Sprint asks dealers to secretively deny to comment on iPhone 5 rumor
15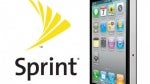 A
Sprint-bound iPhone 5?
The Wall Street Journal has been spreading the juicy rumor last week, hence the Now Network expects a flood of questions, so it has issued a how-to guide for dealers facing the issue of a news hungry Sprint customer. Instead of simply rejecting the rumor, as that seems the most obvious thing to do with a false statement, Sprint has asked dealers to answer with a vague
"no comment."
If the iPhone news hungry Sprint customer continues to ask questions, dealers should admit they've seen the rumors, but finally redirect customers to Sprint's official news wire.
While this in no way confirms or denies the rumor, the
careful wording
resembling what Verizon used to say prior to getting the iPhone. The carrier could have also simply rejected it and in not doing so, it only plants more hopes. The WSJ report claims that AT&T, Verizon and Sprint will get the new iPhone at the same date, so we can't do much but wait for now, keeping our finers crossed that is.