Sprint launches Drive First app that keeps your eyes on the road, not on your smartphone
12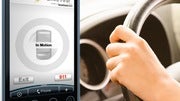 Probably not everyone is willing to admit it, but the majority of drivers often tend to
reach for their handsets while driving
even though they are aware of the potential risks.
Sprint
, however, is now actively putting effort in making the roads a safer place by
launching the Drive First app
, which limits your smartphone's functionality when it senses that you are behind the wheel.
By using your handset's GPS radio, Drive First detects when the vehicle is in motion and locks the device once its speed exceeds 10 miles per hour. While in "Driving Mode", all incoming call get forwarded to voicemail while both email and text message alerts get silenced. At the same time, a notification informs your parents or your spouse that you are behind the wheel. Once the vehicle has come to a stop, all restrictions that the app has imposed are lifted.
While young and inexperienced drivers might find Drive First a bit annoying, their parents will probably feel much better knowing that their kid is being a responsible driver and does not get distracted while driving. If you find the app practical, $2 per month is what the service costs. However, Sprint is offering a 15-day free trial for a limited time so feel free to check it out before you subscribe.