Sprint delays BlackBerry Curve 9350 until October 2nd
10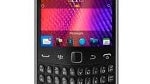 We had
reported
that Sprint was all set to launch the BlackBerry Curve 9350 on September 9th, but one of our tipsters, who wishes to remain anonymous, is passing on to us the news that
the handset has been delayed
. According to a memo that Sprint employees have received,
the BlackBerry Curve 9350 will now be launched on October 2th
. The source gave no reason for the delay.
The BlackBerry Curve 9350 is a low-priced model as Sprint plans on charging $80 with a 2-year contract and business customers are being asked for $50, also with a 2-year pact.
Not a touchscreen model
, the BlackBerry Curve 9350 offers a 2.44 inch screen with resolution of 480x360 with a 5MP shooter on back that captures video at VGA resolution. Under the hood is a single-core 800MHz processor with 512MB of RAM aboard as well.
Those who were planning on popping into their local Sprint store on Friday to pick up the BlackBerry Curve 9350 will have to wait a few weeks longer. Remember, patience is a virtue.
Thanks, Anonymous Tipster!

If you have some interesting information that you'd like to share with us, feel free to Tip Us!