BlackBerry Curve 9350 officially coming to Sprint on September 9
4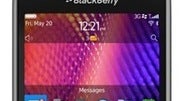 When RIM unveiled its latest BlackBerry models today,
the Curve 9350, 9360 and 9370
, there was nothing mentioned in regards to their US availability, but we have just received a heads-up that sheds some light on the matter.
As of September 9, the BlackBerry Curve 9350 will be available on Sprint
, and getting one will cost you the reasonable $80. However, if you happen to be a Sprint Business customer, the Curve 9350 will set you back a mere $50. Of course, in both cases you will be required to commit to a 2-year service agreement with the carrier.
What might make you want to get a Curve 9350 is that it delivers the BlackBerry experience without breaking the bank. It is powered by the BlackBerry 7 OS platform, offers a full-fledged Internet browser and comes with the iconic BlackBerry keyboard that makes writing those emails and BBM messages easy on your fingers. The 2.44-inch display on the device boasts a resolution of 480 by 360 pixels, and its 5-megapixel camera will come in handy if you ever need to snap a photo on the go. Of course, features like GPS and Wi-Fi connectivity are on board as well. The only drawback that the BlackBerry Curve 9350 has is that its screen is not touch-sensitive so you will have to navigate through its interface by using its optical trackpad instead.
So, what do you think about the BlackBerry Curve 9350? Does it have what it takes to be your next smartphone you you would rather grab something differrent instead? Feel free to drop a comment below and tell us what you think.
source: Sprint