Sprint cans employee who leaked sales figures of the EVO 4G?
This article contains unofficial information.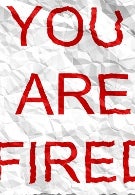 If the stock market crashes because the unemployment rate is higher, blame Sprint. The carrier sent an employee packing for the nefarious crime of tipping off a forum about the number of EVO 4G units that had been sold on the day of its launch. Supposedly, the ex-Sprint employee put up the figures via a post at the Xda-developers forum. Once the carrier found out, they had the post killed. The former employee is invited into a back room where he is told that he had done a naughty thing. His Sprint ID is taken away along with the key to the Men's room, his primo parking space, and his pass to the Sprint gym. In other words, he is gone like last week's turkey sandwich. But unfortunately for Sprint, while the employee who was fired is gone, the words he posted remained at a Google cached page. And, they said, "according to sprint we as a [company] have sold 66,483 theres a whole bunch of stores though that don't have any more inventory i dont think any major city sprint does".
Normally, this type of thing might not have caught the attention of the carrier's top brass, who are usually busy filming commercials anyway. But if you recall, we
reported
that Sprint originally told everyone that the launch of the nation's first 4G device broke their previous sales-record by 3 times and then went back and did a mea culpa and said that the figures were similar to the first three days of sales combined by the previous record holders-the Palm Pre and the Samsung Instinct. That still sounds like the launch was a smashing success. The 66,000 mentioned in the fired employee's post probably doesn't include non Sprint retailers like Best Buy, Radio Shack and Walmart. When something like this happens, there usually will be a few days where leaks are sealed-no one wants to lose their job after all-and slowly but surely, things return to normal.
HTC EVO 4G Specifications
|
Review
source:
MobileCrunch