Sprint announces the fashionable LG Lotus Elite and Rumor Touch
16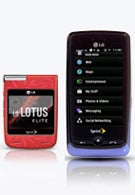 Fashion-cautious users on Sprint will have two reasons to celebrate today, as their carrier has just announced two stylish cell phones, the LG Lotus Elite and LG Rumor Touch. The former will be available in red starting January 10, and in black on February 14, for $99.99 after a $50 mail-in rebate and with a two-year contract. The carrier will reveal the Rumor Touch's pricing later. It will be available for purchase this quarter, but an exact date has not been provided yet.
The
LG Lotus Elite
, successor to the square-shaped clamshell with full QWERTY keyboard will keep the specific shape of its predecessor, but will add an
external 2.4-inch touchscreen
to the deal, which will allow easy viewing of messages and pictures. It will also sport a microSD slot for cards of up to 32GB. Other features remain the same, including 2MP camera and Sprint's One Click menu.
The
LG Rumor Touch
is also a successor to a fairly popular handset and it refreshes the series in a similar manner to how the Lotus Elite does it – by adding a touchscreen. The Rumor Touch however will have a significantly larger,
3-inch display
with a resolution of 240x400 pixels. Of course, it keeps the side-sliding QWERTY keyboard, but upgrades the camera to 2 megapixels and features support for Sprint's EVDO Rev. 0 network. The phone looks very nice, but as we said, it is still unknown exactly when it will ship.
source:
LG