Sprint Q2 revenue reaches record heights, but Nextel shutdown brings $1.6 billion loss
5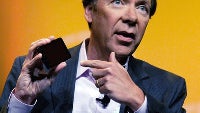 Sprint is the nation's third largest carrier and it scored one of its best quarters ever hitting
record revenue of $7.2 billion
in the second quarter of 2013.
Still, Sprint registered a huge
$1.6 billion loss due to the Nextel shutdown
which is now finally complete. The carrier took a massive $430 million depreciation charge and $623 million in Nextel closure charges. On a positive note, Sprint did mention that it 'recaptured' 4 million Nextel subscribers.
In terms of sales, an overwhelming majority of devices sold to post-paid customers were smartphones and the iPhone was once again the best selling of all Sprint smartphones with 1.4 million units sold in Q2. Here is a quick rundown of Sprint smartphone sales:
86% of post-paid sales were smartphones
1.4 million iPhones sold
41% of iPhone sales to new customers
This is a historic time for Sprint
The carrier has received a cash injection from the $20.5 billion SoftBank acquisition and CEO Dan Hesse could not be more excited:
"This is a historic time for Sprint. We recently shut down the Nextel platform and completed the Clearwire, SoftBank and U.S. Cellular transactions. In the second quarter, we achieved record levels in Sprint platform postpaid subscribers, service revenue and postpaid ARPU, and increased our 4G LTE footprint,"
Hesse said.
Sprint now also covers 151 markets with 4G LTE. Today, it has just flipped the switch in 41 new ones including Philadelphia, the Bronx , Brooklyn, Jacksonville, Nashville and Oakland. Hugely important markets, and it expects to provide 200 million people with LTE by the end of 2013.
source:
Sprint