Spot the fire extinguishers in these photos of Samsung's Galaxy Note 7 battery testing lab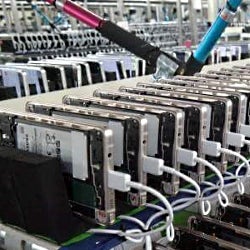 Want to take a peek in the facility where Samsung does testing for the Note 7? Thanks to Twitter user arter97, you don't have to be an insider at the Korean chaebol or possess Tom Cruise's skills in espionage. Here are three photos showing the belly of the beast. Though they aren't high-resolution, you will have no trouble spotting the miniature fire extinguishers next to each row of Galaxy Note 7 phones undergoing, presumably, processor-intensive tests to gauge their response under performance stress. There are no signs of recent fires in any of the photos, which is a good thing – it means the fire extinguishers work.
The phablets whose defects made the second half of 2016 a huge headache for Samsung's mobile business are arranged neatly and look as if the company is powering the entire facility using Note 7 clusters. But what's going to happen with these units after Samsung is done? It will be sad to see so many fine Exynos 8890 processors go to waste! Maybe Samsung can string them together into a super-computer and hold the world record for Super Mario Run indefinitely.
ALSO READ