This infographic shows what the problem with the Galaxy Note 7 was
39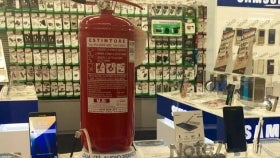 Samsung released the
full report of its Note 7 investigation
on Sunday. But, quite honestly, the results were bloated by a lot of information that very few people actually need to know. Long story short, the batteries were defective, the
Samsung Galaxy Note 7
was not. As for what was wrong with the power packs, take a look at the infographic below.
Basically, what caused the issue with the Samsung SDI batteries was deflected negative electrodes, due to the units' rounded corners. This allowed the electrodes to make contact with other internal components, and create a short circuit.
As for the Amperex Technology batteries, there's a different reason. High welding burrs on the positive tab pierced through the insulation tape and separator. And once they did that, they came into contact with the negative electrode, causing a short circuit. Additionally, some Amperex power packs had no insulation tape altogether, which subjected them to a higher risk of short-circuiting.
Long story short, Samsung claims that both battery manufacturers made huge mistakes in the manufacturing process and the infamous phablet itself is not to blame. The possibility for this to happen are probably one in a million, but we've seen more than enough weird coincidences in our lifetime, so we have very little reason to question Samsung's investigation results.