Upcoming SpongeBob SquarePants mobile game is all about cooking
2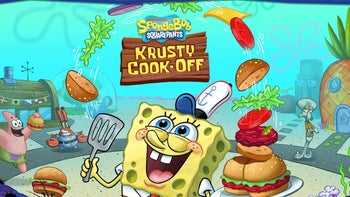 There are many SpongeBob mobile game available on both the Android and iOS platforms, but Nickelodeon thinks there's room for at least one more. SpongeBob: Krusty Cook-Off is a brand new mobile game where players serve orders to a cast of iconic characters from the animated series, SpongeBob SquarePants.
It plays like a cooking game in the same vein as Overcooked, a cooking simulation game that offers a local cooperative experience on PC and consoles. The mobile game doesn't have a co-op multiplayer mode, but you'll be able to compete against other players by cooking Krabby Patties.
The game lets players customize their underwater kitchens and interact with familiar faces from the SpongeBob SquarePants series. The game doesn't have a release date yet, but we're promised more details at a later date.
SpongeBob: Krusty Cook-Off is being developed by Tilting Point and Nukebox Studios in partnership with Nickelodeon. The game will be available in both iOS and Android devices this winter but stay tuned for more info on the release timing.