Split-screen for the Apple iPad might not make it to WWDC
17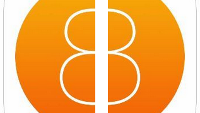 Earlier this month, we told you that
Apple would be showing off a split-screen feature for the Apple iPad
when it introduces iOS 8 at WWDC next month. The lack of such a feature on Apple's slate was mentioned in ads by Microsoft. Those commercials showed off the ability of the Microsoft Surface tablets to multi-task, while showing how iPad users can not use more than one application at a time.
Now, there is talk that Apple may not have the split-screen application ready in time for WWDC, which begins on June 2nd and runs through June 6th. Even if the split-screen is on hold, there still might be some mention of it during the developer conference. Apple is believed to be working on the last necessary bits of code to finish it off. At the time of the original story, there was some talk that the feature would be put on hold until iOS 8.1, and based on Thursday's rumor, this could turn out to be true.
Not all Apple iPads are slated to receive this function. According to those familiar with Apple's plans, only the sequel to the
Apple iPad Air
will eventually end up with the multi-tasking split-screen capability once Apple has it perfected. Earlier rumors had all of Apple's 9.7 inch slates on the receiving end of an update, that included split-screen/multi-tasking capabilities.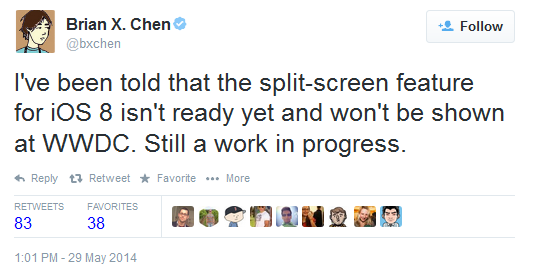 Apple apparently will not introduce split-screen capabilities for the iPad at WWDC
source:
@bxchen
via
SlashGear