Spigen's website reveals mid-April launch for the All New HTC One
11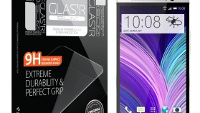 Accessory manufacturer and retailer Spigen has let the cat out of the bag. With its website revealing screen protectors and cases for the
All New HTC One
, all of the accessories will be in stock starting in the middle of April. And as simple as that, we have what would appear to be a valid clue as to when to expect HTC's new flagship to be launched.
Turning to the accessories, Spigen will be selling four different versions of screen protectors for the 5 inch screen on the phone. The prices range from $9.99 for a package of three, to $39.99. Spigen is taking pre-orders for the screen protectors and for two cases it is offering for the All New HTC One. For $24.99, you can reserve the All New HTC One Case Slim Armor. For $14.99, you can pre-order the All New HTC One Case Ultra Fit Capsule.
HTC will unveil its new flagship Android phone on March 25th
, and based on Spigen's website, the device will be launched about three weeks later. Considering that the
Samsung Galaxy S5
will be released on April 11th, it will be interesting to see if HTC tries to get its new top-shelf phone to market before Samsung releases the Galaxy S5. And the dynamics have shifted today with speculation that the
Sony Xperia Z2
launch could be delayed until late April or early May. With
Sony removing the pre-order banner from the SIM free version of the Xperia Z2
listed on Sony Stores' regional websites, the battle to be first to launch its next-gen flagship phone could be between HTC and Samsung.
Thanks, Anonymous Tipster!
source:
Spigen